MBIS celebrated the French week between the 26th and 30th of July 2021. This year the celebrations were a tad different – as the IB Diploma students (Grade 11 and 12) took the lead to plan, organize and implement a fun, engaging and interactive program for middle and secondary school students.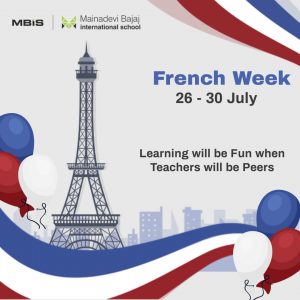 We divided our team (IB students) into 3 groups to increase efficiency in planning and conducting the activities. Each group was responsible for hosting the events for students of the grades allocated. At first, this was a struggle as each class had a mix of students doing Hindi and French. Through teamwork and collaboration, we were able to figure out a way to involve all students in the activities.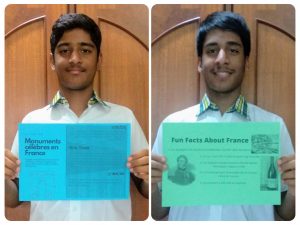 The process of planning the French Week Celebrations began by gauging student's knowledge about the French culture and language. This helped us plan activities/games that were both fun and also challenging. Post this exercise; we formulated a list of activities that we could conduct. In the run-up to the celebration week, we asked students which activities they would be interested in and to prepare beforehand in case the activity required prior preparation. For example grade 8 students were required to make something using the French national flag colours (as homework) and Grade 9 students were required to make posters on topics assigned to them.
To conduct the activities, we visited the grades during their free subject lessons and/or homeroom time to keep them engaged. To document all our activities, we clicked photographs and videos that included Geoguesser, a game played with Grade 10 that stimulated an environment of being lost in France and navigating your way through the streets. Other activities included a Kahoot quiz on several themes, emoji guessing, dumb charades and mad libs.
Needless to say, it was not all smooth sailing. We faced several challenges in planning and implementing this program – the biggest being time management as it was all virtual and we had to align our individual class schedules with those of our peers in lower classes. Our list of activities also went through several iterations. Nonetheless, we were able to plan for these celebrations with the help of our teachers and also arrange virtual meetings every other day to ensure all group plans are finalized and changes, if any are discussed and then implemented. The culmination of the French week celebrations was a French song that I recorded.
Overall, planning the event was great fun and an incredibly engaging exercise. It was enriching to work together for a common goal and understand each other's strengths and weaknesses while also collaborating with our juniors – with whom sadly we don't get to interact much (in an online scenario). Such events help us as the MBIS student community to stay connected with each other.
I would like to take this opportunity to thank all our teachers who have helped us through planning this event, have not only understood but also appreciated our efforts and last but not least, shared their valuable lesson periods with us!
I look forward to planning and organizing many more such virtual events all through this academic year with my peers.
As they say in France, jusqu'à la prochaine fois!
Regards
Aarushi Pandey
Grade 12